Wake up your brain
Brainwave entrainment is an evidence-based therapy which combines Audio-Visual Entrainment (AVE) and Cranio-Electro Stimulation (CES) to provide relief for a variety of concerning mental, emotional, and physical issues. Use of the device is painless, has relatively few side-effects, and can be safe used by children, adults and the elderly in the convenience of a home setting.

Audio-Visual Entrainment (AVE) is a technique that uses sound and pulses of light at certain frequencies to safely and gently the brain into specific brainwave patterns. By altering the frequencies of brainwaves, your mood, sleep patterns, sharpness of mind, and relaxation levels can all be improved.

Cranio-Electro Stimulation (CES) is a non-invasive brain stimulation technique that stimulates serotonin, endorphin, and norepinephrine neurotransmitter production. The unit applies a small pulsed electric current across a person's head. It is painless and proven to increase brain function.

Once considered alternative, brainwave entrainment is backed by decades of research and is becoming more widely utilized and accepted in the broader psychiatric community. Individuals who struggle with psychiatric medication intolerance due to side effects may find brainwave entrainment an effective alternative. Combined with traditional talk therapy, brainwave entrainment promotes an accelerated response in recovery from a variety of issues.
Evidence-based healing in the following areas

Anxiety and stress
Academic performance
Low mood
Attention Deficit Hyperactivity Disorder (ADHD)
Post-traumatic stress disorder (PTSD)
Business performance / work-related stress
Sports performance & mindset
Senior issues (memory, cognition, and balance)
Concussion and brain injury recovery

Pain (including fibromyalgia)

Seasonal affective disorder (SAD)

Sleep and ability to relax
Breaking up ruminating on disturbing thoughts
Salveo Counseling offers guided brainwave entrainment sessions in office as well as the option of purchasing a unit to use conveniently in the privacy of your home. If you are unfamiliar with brainwave entrainment, it is suggested that you schedule a session to learn more and experience AVE and CES prior to purchasing a unit.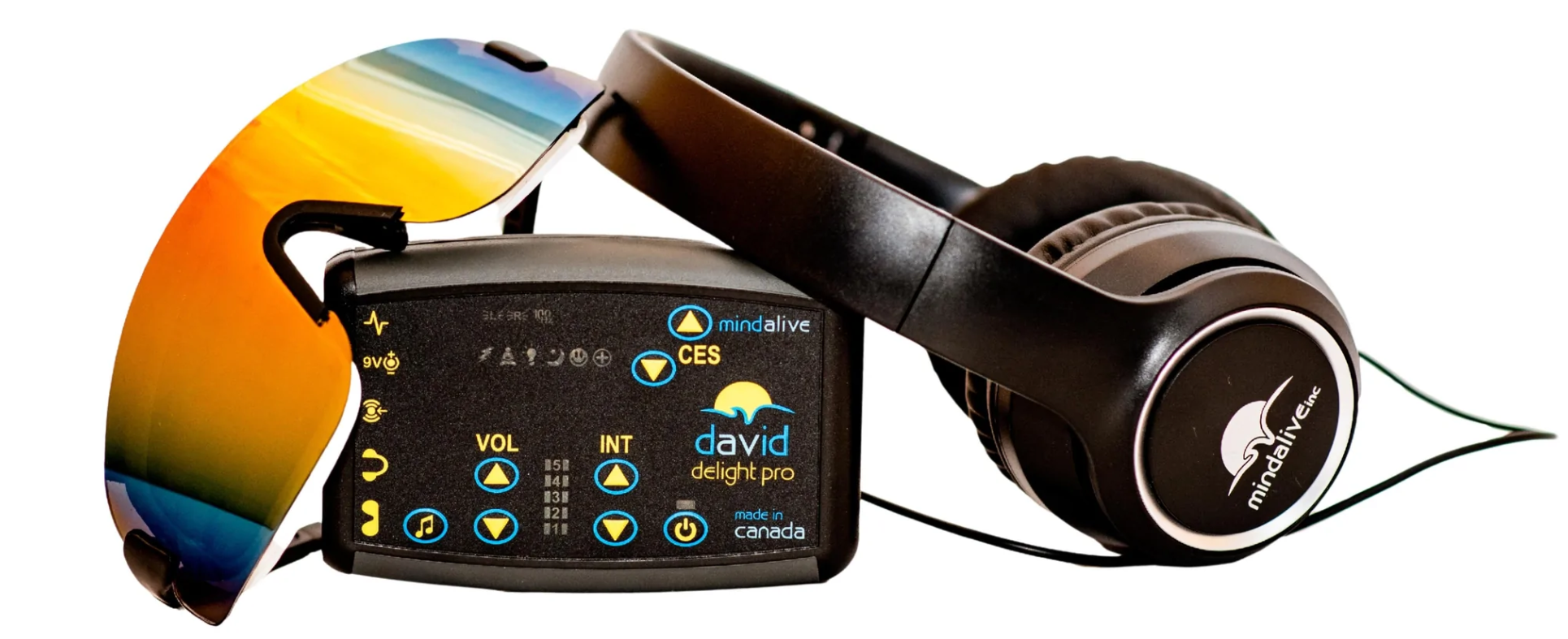 In-office guided sessions
Unit purchase for private use
Note: Brainwave entrainment sessions or devices are not covered by insurance but you can use HSA funds.